Who We Are
St. Francis Anglican Parish desires to become a prayer driven congregation upholding the faith, morals, discipline and worship of the One Holy Catholic and Apostolic Faith. The Parish was incorporated June 25th, 2015, under the laws of North Carolina governing non-profit unincorporated associations, as a separate and free membership.
The standards of faith, doctrine and discipline of this parish is the biblically-faithful way of following Jesus and the Holy Scriptures, which we hold to be the authoritative Word of God and as containing all things necessary for salvation; the Book of Common Prayer; the historic Creeds of the undivided Catholic Church: the Nicene Creed, the Apostles Creed; and the thirty-nine (39) Articles of Religion as generally received within the Anglican tradition and their relevance to the mission of the Church today.
We acknowledge our baptism as the initiation for us as ministers of Christ's lay ministry in this parish and shall be open to all regardless of age, color, ethnic origin, or gender in accordance with the practice of One Holy Catholic and Apostolic Church.
In June, 2015, after a process of discernment during Lent, which included a meeting with the Presiding Bishop elect of TEC, a group resolved to have an informational meeting. Ron Hewitt led the gathering of 70, exploratory committees were fashioned, attendees signed up and a follow up meeting was scheduled for early July, 2015. Some old friendships were rekindled, while new families attending were warmly welcomed.
The response to the first meeting blew everyone away and St. Francis Anglican Parish quickly became a reality. Articles of incorporation, by-laws and bank accounts soon followed. To move administrative matters away from Advent and Christmas a June 30 fiscal year-end was adopted. Letters of transfer were submitted. We were off and operating, prayerfully listening to God. Through August, 2015, Marty Pate led us in several weekly evening prayers. Our formation took further structure and the sheer joy of being "of one mind, maintaining the same love, united in spirit, intent on one purpose" came shining through. Our formation committees offered names for vestry positions and after one of the evening services our vestry was duly elected, unanimously.
At about the same time, we became aware of Fr. Craig Lister's availability. Knowing he was asked to step down from his current role as Rector, pending his retirement at the end of August, we asked him if he wanted to participate in our worship services when in town.
Our elected vestry held its first meeting August 23, 2015. In September, the position of rector was extended to Fr. Craig.
We are hosted by the good people of Emmanuel United Church of Christ, sharing their facilities and resources. They have received us with welcoming arms. Our parishioners are filled with the love of Christ and are being led by the power of the Holy Spirit. We do not desire to be another cookie cutter parish but to profess the power of Christ.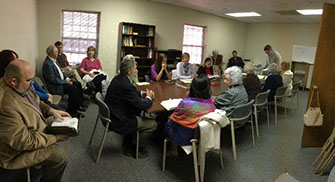 Together we began learning how to fulfill this mission in combined adult and teen Sunday discussion classes led by Peggy Nelson and Marty Pate. The average attendance in these classes is 25 to 30. Stuart Smith and Pamela Kerley organized a schoolhouse type atmosphere for the younger members of the parish. Sarah Womack also began acting as the youth director holding youth group meetings on Sunday evenings to teenage members and non-members. These classes and groups have been active since we began meeting at Emmanuel.
During October and November, we were visited by and interviewed three Anglican Dioceses. As Anglicans, we are aware of the substantial ecumenical consensus that recognizes ministry within the historic episcopate and should be a feature of the universal church. All the dioceses interviewed were connected to the Anglican Church in North America (ACNA) or moving in that direction. ACNA unites Anglicans in nearly 1,000 congregations across the United States, Canada, and Mexico into a single Province. On April 16, 2009, ACNA was recognized as a province of the global Anglican Communion, by the Primates of the Global Fellowship of Confessing Anglicans. The Most Rev. Dr. Foley Beach is the Archbishop of the Church. We were prayerfully discerning God's will as we sought to become a parish in a new diocese and province sometime in 2016.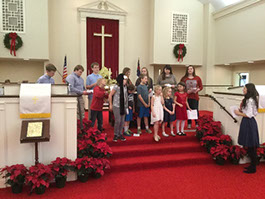 Our first Christmas Eve service was attended by 187. It included a surprise pageant written, directed, and presented by the youth.
At a special meeting of the Vestry in January, 2016, The Rt. Rev. Breedlove returned and was interviewed with questions asked about the diocese over which he presides, PEARUSA, previously of the Province of the Anglican Church of Rwanda. That Province called for the legal transfer of PEARUSA to ACNA. As part of the transition a newly formed Diocese of Christ our Hope was formed.
After prayerful consideration, the Vestry unanimously voted to recommend to our membership that we affiliate with the Diocese of Christ our Hope and the Anglican Church of North America.
Their recommendation was accepted unanimously at the first annual meeting of the Parish on January 31, 2016. Our initial vestry of Lew Andersen, Sue Comstock, Ronald Brown, Buddy Keller, Judith Edmonds, Pamela Kerley, Linda Pate and Jean Dabbs signed our application to affiliate with the Diocese of Christ our Hope.
At that same meeting, Ronald Brown, Sue Comstock, and Jean Dabbs were each elected to a three-year term; Lew Andersen, Oliver Crawley, and Gordy Reese were each elected to a two-year term; and Buddy Keller, Pamela Kerley, and Mark Mahaffey were each elected to a one year term.
On February 11, 2016, Fr. Lister and Bob Nelson (later appointed to the diocese finance committee) were invited to attend the Diocesan Piedmont/Coastal Regional meeting. The application was duly presented to Bishop Breedlove. The group was most hospitable, welcoming us into the Diocese as if we had been there all along.
​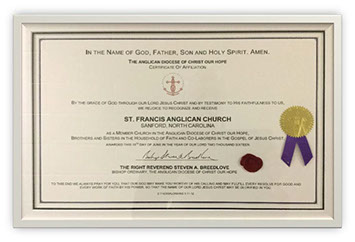 While churches are not required to seek tax exempt status with the IRS, we filed form 1023, Application for Recognition of Exemption under Section 501(c)(3). We were notified March 1, 2016, that our application was approved effective June 25, 2015.
We celebrated our first year together with a covered dish lunch at the Keller's farm.
Our first service Easter was attended by 115.
Bob Stone began organizing the choir in April, 2016.
​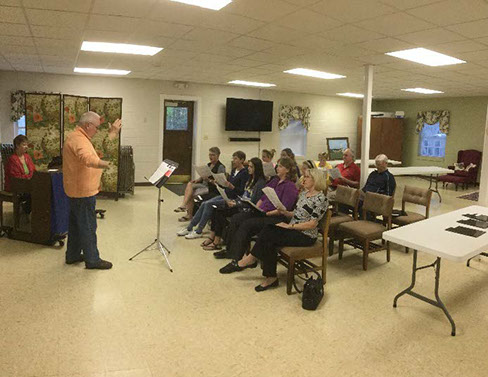 ​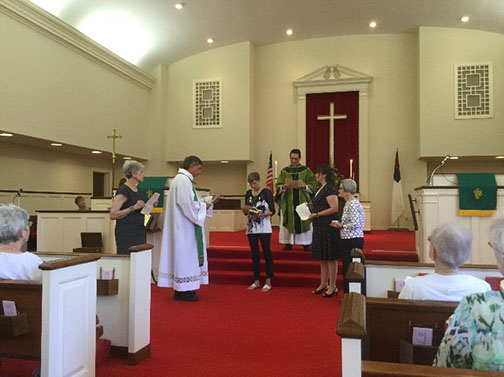 On June 19th, 2016, Bishop Breedlove made his first official visit and installed Fr. Craig, as rector and the vestry of the Parish.
On July 10, 2016, Gordy Reese escorted six youth to Camp Booyah in Cedar Grove, NC for a week-long adventure. They successfully raised the full camp registration costs through a series of fund raisers and donations from the St. Francis parishioner's.
Our first year of operations resulted in gross revenues of $436,443 which includes $149,318 of non-recurring gifts. Average Sunday attendance was 81. We have been blessed beyond belief this first year.
The vestry appointed Pamela Kerley and Jean Dabbs to be delegates for Synod 2016, held November 3-5, 2016, in McLean, Virginia. They were delighted to hear Matthew Mason as the plenary speaker. The theme of his plenaries is "Sexuality and the Gospel: Proclaiming God's Truth with Clarity, Courage, and Compassion."
Our future will be Christ driven, we pray our history will reflect such. This is a good season for Anglican Christians in this country. As Anglicans, we strive to be faithful to the Gospel and responsive to the Holy Spirit, our labors are bearing fruit and God is opening unexpected opportunities. We've inherited the gift of a remarkable tradition, and we intend to steward it with care and God's will.
We invite you to join us as we make this journey.