​
​
St. Francis Anglican Church
Holy Eucharist
Second Sunday of Advent
Dec 6, 2020
Weekly service bulletin
download by clicking the pdf
Announcements, meetings and activities for everyone
Please note we have a new St Francis church phone number 919-292-0031
Daily Prayers for Advent and Christmas
Sunday School - Study of the Books of 1 and 2 Kings continues today.
Holy Eucharist – Wednesday, December 9, 2020 at 11:30 am.
Food Pantry drop off - Wednesday, December 9, 2020, 5:30 pm to 6:00 pm.
Evening Prayer and Advent Program – Wednesday, December 9, 2020 at 6:00 pm in the sanctuary.
Altar Flowers – 2021 sign-up sheet is now available.
The BreadBasket of Sanford
A Non-Profit Organization Dedicated to Feeding the Needy
http://www.breadbasketofsanford.org/
In 1989, Fr. Craig saw an urgent need to feed the hungry of Lee County. With tremendous help from a group of people from St. Thomas Episcopal Church, including Elisabeth Wilkinson and Betsy Parnell, The Breadbasket opened its doors in September 1990, serving a lunch of soup and sandwiches. Over the years, lunches have evolved to include a home-cooked meal of a meat, two vegetables, salad, tea and dessert. In 2002, as demand grew, they built an 1,800-square-foot building with a commercial kitchen and large dining room at 140 East Chisholm Street where they now operate.
The Breadbasket operations are run by Susan Rosenthal. Pre-Covid-19, Susan supervised 300+ volunteers who prepared and served meals for the clients at the facility, picked up food donations from generous grocery stores and restaurants around town, and sorted and stored incoming food at The BreadBasket. (Some food is shared with other agencies, including CUOC.)
Before the shutdowns, meals were served in the dining room of The BreadBasket. Now, they are serving 1,000-1,200 take-out meals per week, a pace approaching 60,000 meals per year. As you can imagine, not all the previous volunteers are still able to serve, so the need for more volunteers is critical. If you would be interested in volunteering or making a donation to The BreadBasket, please contact Fr. Matt (757-345-1299) or Tom Reese (919-478-1955). Thanks so much for your consideration!
Current needs:
• Volunteers to help prep food for lunch in a safe environment (8:30-11:00 a.m.)
• Packs of bottled water
• Take out containers for meals
• Financial support (PO Box 912, Sanford, NC 27331-0912)
The BreadBasket of Sanford
Street Address: 140 Chisholm Street
Mailing Address: PO Box 912, Sanford, NC 27331-0912
Phone Number: Fr. Matt (757-345-1299) or Tom Reese (919-478-1955)
Make a donation to the BreadBasket of Sanford: http://www.breadbasketofsanford.org/
We have added "St Francis Sunday School Class Videos" page on St Francis website. Join us in watching the videos of Sunday School Classes. Watch them directly from our website with full functional buttons and full screen mode (as you would in YouTube). Link to page have been added to the website menus for easy navigation. The Anglican Prayer Book series of classes is now available to watch on that page.
Stay connected
St. Francis uses BREEZE as a database for addresses, phone numbers, birthdays and anniversaries. If you need to update your information or be added to the parish database, please contact Brian Haynes at brianh72004@yahoo.com.
For your convenience, access BREEZE from any device at the top or bottom of the St Francis website navigation menus.
Please read the concerns for health and safety at St Francis
Join us in-person for services in the Sanctuary Sundays at 9:00 AM Holy Eucharist and 11:00 AM.
We will continue to have virtual services available for those at home via Facebook Live at 9:00 AM every Sunday morning our service of Holy Eucharist
St. Francis Anglican Parish Prayer List
Cards of Prayer from our St Francis prayer team are available please download PDF file here.
Our Prayer List is attached to the weekly parish bulletin.
We Pray for the concerns weighing on the hearts and minds of members of this congregation
We Pray for those serving all over the world in our military
We pray for the departed
To add or remove a name from the prayer list contact the church 919-292-0031 or Sue Comstock at 919-498-9154 or email her at suectrace@gmail.com. Names will be removed after three weeks unless you contact Sue to extend the time.
Vestry
Through 2021: Bruce Ledford, Tom Reese, Jimmy Washburn, Junior Warden
Through 2022: Oliver Crawley, Joe Hanna, Beth Puckett
Through 2023: Johnnie Gordon, Phillip Lloyd, Helen Ward
St Francis Mailing Address: 1089 Wilkins Drive, Sanford, NC 27330
Phone number: 919-292-0031
St. Francis Parish information website:
Prayer Cards - For prayer please fill out a blue prayer card (found in each pew) and placing it in one of the red boxes beside each entrance. A prayer team member will pray confidentially about each card during the coming week. Also just talk to any prayer team member (identified by red name badge), who will be happy to pray with you personally after the services.
Parish Pictures - If you have any pictures of parish events or special times had with our St Francis family past or present you would like to contribute to the website please (email Charles Wick).
​
The San Damiano Cross
(St Francis Cross)
The San Damiano Cross is the cross which St. Francis of Assisi was praying when he is said to have received the commission from the Lord to rebuild the Church. It now hangs in the Basilica of Saint Clare in Assisi, Italy, Franciscans cherish this cross as the symbol of their mission from God.
Learn more about The San Damiano Cross, click PDF to download
* * * * * * * * * * * * * * * * *
St. Francis Anglican Parish Prayer List
Please Pray for the concerns weighing on the hearts and minds of members of this congregation.
If you need to add or remove a name from the prayer list contact:
Juli Anne Lawrence, mrandmrsetl@gmail.com
Beth Puckett, elizabethr.puckett@gmail.com
Gordy Reese, gordyreese79@gmail.com
See current prayer list on last page of weekly parish bulletin. Names will be removed after three weeks unless you contact Sue to extend the time.
EXPANDED PRAYER OPPORTUNITIES ON SUNDAY MORNINGS!
After each Sunday Eucharistic service, prayer will now be available in two forms:
1) Trained members of the prayer team will be on hand to pray for you personally and confidentially for any need. Simply walk over to any prayer team member (identified by a red badge), and you will be joined by one or more other prayer team members, move to a quiet corner, and be prayed for.
2) Blue prayer request cards have been placed in all pew pockets if you would prefer to submit a request in writing. Just fill out a card and drop it in either of the two red boxes (one at the back of the church and one on the table beside the door to the fellowship hall). Prayer team members will pray for written requests during the subsequent week.
Please be assured that all prayer requests are held in strictest confidence. Never consider a prayer need too small, too trivial…or too big! Prayer team members always begin by listening for God's direction, and only then do they verbalize the prayers that they sense on God's heart for you. Please take advantage of these new opportunities to receive God's comfort and peace!
* * * * * * * * * * * * * * * * *
St Francis Website - Be sure to check out and share our parish website http://stfrancisnc.org. Keep up to date our website is fully responsive on all formats: desktop, tablet and mobile phone for latest in weekly announcements, bulletins and events. Managed by Dr. Charles Wick. Thank you to those who have made reviews star ratings, added pictures of events on our Parish website, our parish google listing and parish facebook, this helps our mission for reaching people on the World Wide Web and local areas. If you would like to contribute a review click here or below. Thank you for your united support.
​
Leave a Review forSt Francis Anglican Church on Google
St Francis facebook page - Visit, like and share our facebook page https://www.facebook.com/stfrancisnc
​
St Francis Charter youth meetings for Trail Life Boys and American Heritage Girls. New meeting times to be posted soon. Please contact with interest below:
​
Trail Life Boys: Mrs Pam Kerley is the contact, email pamkerley1@gmail.com
Trail Life USA Troop NC-2717 has a new web page. We appreciate your support St Francis please be sure to visit and share the page the full URL is: http://stfrancisnc.org/TrailLife.html
​

American Heritage Girls: Mrs Anne Greenaway is the contact, email annemcev@yahoo.com
For more general information visit https://www.americanheritagegirls.org
Pictures in Breeze - Please add a photo of yourself to your Breeze account.
BREEZE Information (Our Parish Database) Please note we have added BREEZE link to our website menus for your convenience.
Breeze website: https://sfap.breezechms.com
* Questions: If you have questions about Breeze (or need to be added), please contact Brian Haynes at brianh72004@yahoo.com or (443) 326-8823. He also is happy to answer questions during the coffee hour after service.
* Breeze photos: If you need assistance with uploading your photo to Breeze, please contact Brian Haynes. Brian can assist in the following ways:
1) take a photo of you after church or
2) use an existing photo and upload it for you (it can either be a printed photo or one you send him via email or text).
SUNDAY SCHOOL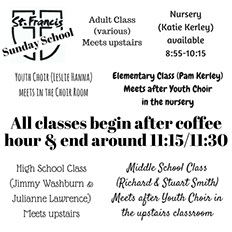 All classes begin after coffee hour and end 11:15-11:30 unless otherwise noted
Adult Class (various) meet upstairs
Children have an opportunity to sing with Leslie after coffee hour meet in the choir room. Elementary class meets after Youth Choir in the nursery. Middle school class meets in upstairs in classroom. High school class meets upstairs.
Youth Choir meets 10:30 in the choir room
Nursery available 8:55am-10:15am
Visit our Music page, download 8.5x11 printable PDF of your favorite hymns
Download 8.5x11 printable PDF for the kids or kids at heart. Enjoy, learn and share!